The Places I Shouldn't Be Links Page
---
BACK · MAP QUEST · EXPLORING TIPS · HARDWARE


---
Abandon Spaces
A New England based Urbex community.



Danvers state something something
Crybaby John's artsy little urbex site.



Radical_Ed's Photo Album
Heaping piles of Byberry pictures from inside and out.

The Story of Byberry
A compilation of just about everything you ever wanted to know about Byberry.

Goddog's Yahoo Photo Album
A couple hundred Byberry pictures from 1950 to present.

The Secret Urban Exploration Ninja Mafia
THE funniest goddamn site on the web.

Byberry Mental Hospital



One of the original and probably the most popular Byberry sites.
If you'd like me to link to your page, or for some reason would like to link to this one, email me here.
Before you go, how about letting me know how bad my site is...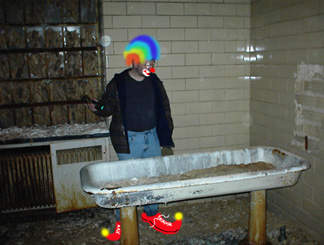 A group urinal trough or embalming sink... you decide.
---
BACK · MAP QUEST · EXPLORING TIPS · HARDWARE


---